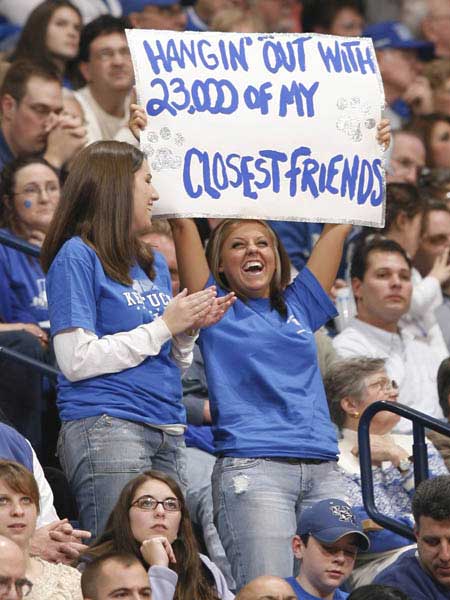 I was going to wait a while before I actually published this post, but because Matt at
KSR
put up a link to
Stuff White People Like
, I thought I'd try to strike while the iron was hot.
Before this past year's college football season started, Orson at
EDSBS
reached out to other
bloggers
for descriptions of their fan bases based on the book/site Stuff White People Like. They were funny, but I was disappointed that no one from the UK
blogosphere
tried to send in a post.
Vandy's
lack of a submission was unsurprising.
Anyway, I thought I'd try to bring that idea back with this post about UK fans, and try to do one for
Vandy
fans. Or maybe at least try to get a
Vandy
blogger to do it - they'd probably know their intricacies better than I would. So here it goes, a unique list (hopefully) of stuff Blue and White people like:
1) College Basketball History: Kentucky fans are some of the most knowledgeable basketball minds in the country. Ask any UK fan what our all-time winning percentage is, what Patrick Patterson's stat line from the Lamar game was, the time, date, and location of each of our seven NCAA championships (and don't forget the 2 NIT titles, which used to be a big deal!), or the name, address, and date of birth of each player on the current squad, and they'll tell you without blinking an eye. The unfortunate part is that our singular devotion to the
roundball
game has left us without any more space in our brains to understand any other sport
besides
basketball. The fact that Wildcat football has, until recently, been
freakin
' horrible, does not help us. If I hear another crowd at Commonwealth Stadium cheer on third down when our OFFENSE has the ball,
Pookie
Jones will drown a kitten. We don't want that, now do we?
2) Reminding people that Ashley Judd went to school here: In case Dick
Vitale
hasn't told you thirteen
kajillion
times, Ashley Judd is a UK alumna. She's an attractive, famous actress. She went to UK! LISTEN TO ME!!!
3) Denying that Adolph
Rupp
was a racist: I honestly don't think
Rupp
was
a racist. But modern media perception does. And in true blue fashion, Kentucky Educational Television has produced a two hour documentary on the subject defending the Man in the Brown Suit, and we also have a guy whose website is devoted to defending
Rupp
. The man's dead, mainstream media. Give him a break.
4) Lamenting the ways that Kentucky manages to lose football games: Until recently, as noted above, Kentucky football has sucked. Hard. If there was a way to blow a football game in the fourth quarter against a quality, usually SEC, opponent, our guys knew how to do it. This habit of snatching defeat from the jaws of victory was a byproduct of inattention to the program (thanks, C.M. Newton, you jackass) and seemingly constant probation (Thanks, Claude
Bassett
and Hal
Mumme
, you jackasses). Exhibit A: the 2002
LSU
game, popularly known as the Bluegrass Miracle, where we had a win over a perennial SEC power all but locked up only to let a Hail Mary pass flit through four pairs of blue hands into a Tigers receiver for a touchdown to lose the game as time expired. Hate, hate, hate that game. Exhibit B:
Wuerffel
to
Doering
, and trying to write about that will probably make my head explode.
5) White athletes: This, decidedly, is a somewhat racist tendency found ( in the Kentucky faithful. We've been graced with the presence of such superior basketball and football players as Moe Williams,
Dermontti
Dawson, Jamal
Mashburn
,
Tayshaun
Prince, and Antoine Walker, but if you mention Darren
Feldhaus
or Richie Farmer to anyone who was alive during the early '90s, they'll probably cry right there on the spot. At least it's not as detestable as Pats fans' obsession with
Welkaaaahhh
.
6) Country music: This is pretty much uniform throughout the SEC, but Cats fans love country music. We used to play a Kentucky-
ized
version of "We're from the Country" during timeouts. It was catchy. It was also really, really stupid.
That's about all I can come up with. I'd love to hear what I missed in the comments.